Healthy Mexican Treats
April 4, 2007

Sweet hard honey candies with sesame seeds: mmm
Check out these fine treats I scored from a little grocery store in Puerto Morellos, Mexico.
Last year I picked up some of the same snacks from a drugstore while down south. Generally, the the treats that you can find in a small mini-market around the Yucatan are just as junky as the twinkies and oreos you'd find at convenient stores here.
I was delighted to find these awesome tasting whole-grain preservative-free snacks :-)

These rich flaky whole-wheat plamier cookies are a favorite.

These are sugar-free, and have whole flour and soy lecithin as main ingredients. Each cookie has more protein than carbohydrates and fat - and they're awesome tasting.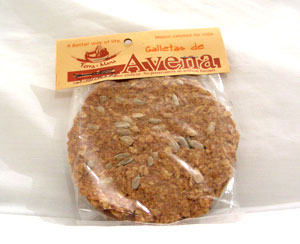 These are superbly thin, crunchy and totaly satisfying. Packed with whole oats, sunflower seeds and sweetened with honey - yum :-)