Matcha Martinis
June 27, 2007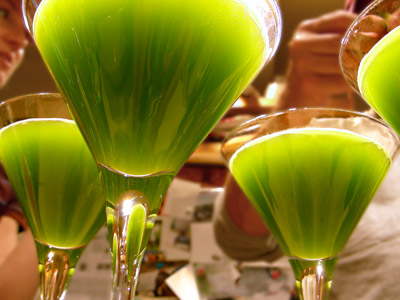 lovely green powerful matcha martinis
This weekend while visiting my cousin in Guelph, we ended up wandering into a little town called Elora. Here we found a tiny Japanese tea shop - to our delight! The owner was an enthusiastic tea master from Japan, who gave us the low-down on matcha tea. (I'm sipping some high quality organic matcha tea as I write - mmm...)
We scored great quality matcha tea along with special bamboo whisk and scoop, as well as the tea master's blend of matcha with cane sugar to share with our lovely hosts.
With the matcha/sugar mix, we spontaneously concocted these gorgeous
delicious (stimulating!) matcha martinis. (I googled "macha martini" and, as I suspected, others have made variations of this cocktail.)
Recipe: Matcha Martini
Domo arigato Mr. Matcha!