More Swiss Cookies!
September 30, 2007
...enjoying a chewy almond macaroon under a palm tree by Lac Leman in Montreux: c'est la vie!
From the artisan market in Vevey: Beautiful delicious linzer cookie - sweet hazelnut pastry with raspberry filling.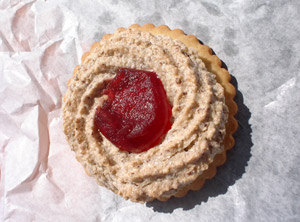 From the artisan market in Vevey: crisp sugar-cookie, topped with a chewy almond macaroon, topped with sweet raspberry.
Meringue with double cream from a little fondue place in the mountains (Western Switzerland).
Just a few of the lovely cookies I sampled while away :-P
Interesting facts: macaroons and meringues are generally wheat-free and gluten-free. Macaroons have a substantial amount of protein due to the ground nut flour and egg whites typically present. (Both are all generally high in sugar too.)
*Inspirational recipes:
Honey Almond Macaroons
Almond Macaroons
Macarons Maïs Violette
Gluten-free cookie recipes: meringues, macaroons, amaretti...