Banana Booty Bars
December 1, 2007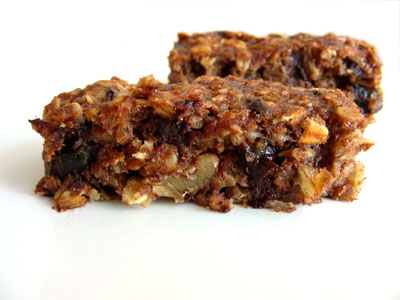 These are my new favorite bars!
Recipe: Banana Booty Bars
The Booty: Naturally sweet, chewy, packed with oats, fruit, fiber, a
hint of spice, dark chocolate and a walnut crunch. These vegan treats
are quick and easy to make and are great for people on special diets -
great for your booty too ;-)
I initially made these as cookies. The excellent flavour and wholesome ingredients were all there, but the cookie format wasn't the greatest (+ more time consuming!)... After deciding on the bar format (and tweaking the ingredients) everything came together deliciously. These are super for a quick breakfast or snack + a great way to use up those over-ripe bananas!