2 Super-Healthy Quick Breads!
January 23, 2008


Super-Healthy Banana Bread "...whole-grain perfectly spiced banana bread: gluten-free, sugar-free,
dairy-free and flavorful with no unnecessary sugar or fat."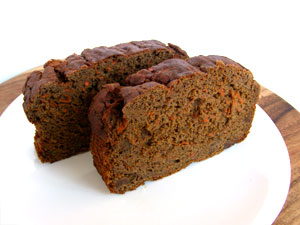 Healthy Carrot Gingerbread "...very tasty super-healthy fiber-rich fruity spicy carrot gingerbread. Made with the most nutritious natural sugars and whole grains..."
Here are two new super-healthy quick breads to give you a mid-winter boost. Both are gluten-free, dairy-free, and low-sugar or sugar-free, and both are absolutely delicious. Great for the health conscious, or for those on special diets who still want to eat the good stuff!
Recipes:
Happy healthy baking :-)