Patty's Pumpkin Pudding Pie
February 29, 2008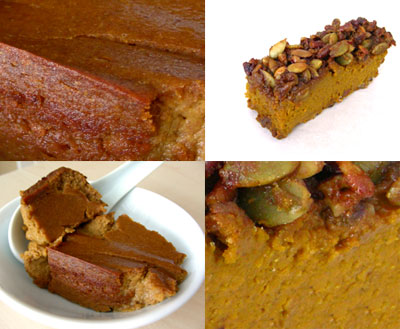 They say that the smell of pumpkin pie baking in the oven is an aphrodisiac. They also say that it's good to bake one while you're having having an open-house to sell your home - chances of scoring are higher. I bake them often in the fall and winter, as they're the perfect seasonal dish (winter squash is one of the few vegetables that will keep for months), and they're supremely delicious.
Most days, I prefer making variations of this pumpkin pudding to a traditional pumpkin pie. Why? Because it's healthier (no refined ingredients or empty calories), quicker and easier to make - and I'm more into the filling than the crust. Here's my quintessential recipe: Patty's Pumpkin Pudding
Like a clafouti, this pudding makes it's own "crust" and is sliceable when cooled down. Beautifully spiced and rich, it can be embellished with a layer of crunchy caramelized nuts. This is an easy and flexible recipe where you can play with the ingredients and their proportions - so have some warm sexy winter baking fun!
ps - here are some tips on how-to take a classic pumpkin pie recipe and make it healthier - without compromising flavour: Hi there pumpkin pie!