Gluten-Free Oats?
March 5, 2008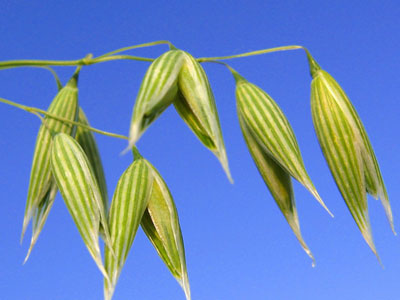 Photo of oat flowers (avena sativa) by Andreas Trepte
Are oats gluten-free? For someone with Celiac Disease who can't tollerate wheat gluten (almost 1% of the population), this is an important question. Adi Lucas posted this sweet comment and great question under my recipe for Spiced Pineapple Oat Cookies:
"Hello Patty and thanks for the wonderful recipe. I´m always trying to improve my stash of healthy recipes and this one works great for me! I love oats as it goes fine with the small amount of carbs I include on my daily diet. My question is the following: I have heard that oats are forbidden for celiac disease and as I have a good friend with this problem, I´d like to know what kind of oats you use in this recipe so I can tell her about it. Thanks."
I looked into it and this is what I found out: Most oats have been contaminated with some wheat-gluten, and consequently are not good for people with celiac disease. However, new studies show that oats that have not been contaminated are ok in moderation for most people with celiac. According to Health Canada:
"...the majority of the evidence indicated that most people with Celiac Disease can tolerate moderate amounts of pure oats (uncontaminated with wheat, barley and rye) in a gluten-free diet. The amounts should be limited to 20-25 grams/day (65 ml – or 1/4 cup ) dry rolled oats for children and 50 -70 grams/day (125 to 175 ml – or ½ to ¾ cup) dry rolled oats for adults. Based on some evidence that a possible sensitivity to pure oats exists, most investigators in the field recommend a clinical follow-up when introducing pure oats to the gluten-free diet."
Here are 2 sources of gluten-free oats:
http://www.creamhillestates.com
http://www.glutenfreeoats.com
I have not tried these gluten-free oats yet. I do not have celiac disease, just a gluten-sensitivity (on and off) and still, the times I am sensitive, eating regular oats upsets my system. I will try these gluten-free oats and let you all know how it goes - my local health food store doesn't carry them yet so I may have to order some.
Oats are a nutritious delicious versatile grain. It's great to hear that more people can enjoy them now!