Recipes from the Depths
April 9, 2008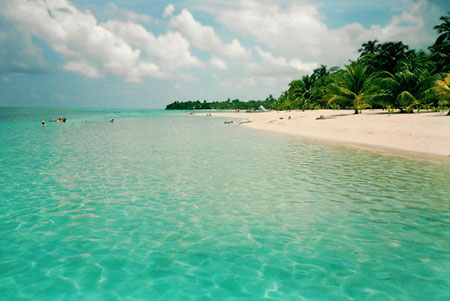 I'm off to the Caribbean for a couple of weeks for some much needed R&R - this time The Bay Islands, Honduras! (Interesting fact: Honduras means "the depths" in Spanish.) Besides relaxing in a hammock under a coconut palm, hanging out in a mango tree, snorkeling with sea turtles, and kayaking, I'm looking forward to enjoying a lot of fresh fruit and fish and other local fare.
Here are some regional recipes that sound wonderful:
Honduran Mango Avocado Salsa - Great with fish.
Caribbean Recipes from Roatan Honduras - Check out the Baked Mango Dessert, Coconut Bread, and Johanna's Mango Salsa "to die for".
Tortillas - A Honduran staple. This is a very good detailed description on how to make your own - fresh is so much better!
Garifuna Backyard Oven Allspice Cinnamon Buns - Sarita the "Sweet Bun Lady" uses her great-grandmother's recipe. Great story.
Hasta luego mi amigos!