Roasted Almonds with Figs
May 10, 2008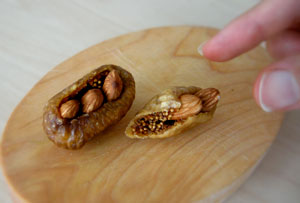 Figs and almonds are a classic - and with great reason. Lately, I've been eating dried figs stuffed with roasted almonds and WOW. This combination is almost shockingly delicious - satisfying too. It's super nutritious as well:
Almonds: high in healthy fats, vitamin E, B2, magnesium, copper, antioxidants
Figs: high in fiber, potassium, calcium
This combination is even better when you roast the almonds yourself - here's how:
Recipe: Roasted Almonds with Figs
Heat oven to 350.
Spread raw almonds on a single layer on a pan and bake (a jelly roll pan works great) for 10 - 20 minutes, stirring once or twice while baking.
When they are ready, they will be fragrant and golden inside (cut one open to check). Be careful, as they will continue to roast once you remove them from the oven - so don't let them get too brown.
Allow to cool completely.
Next, snip the top off a dried fig (buy natural dried figs with no sulfites) and push a few almonds in. Enjoy!