Sprouted Quinoa Cornbread
May 27, 2008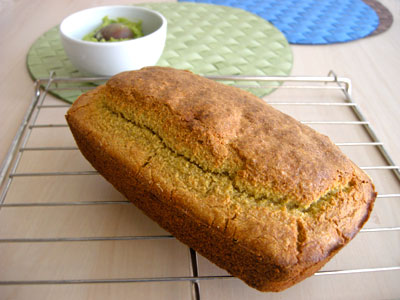 Fresh cornbread with homemade guacamole: yum!
Here's another healthy tasty quick bread for cornbread lovers ~
Recipe: Quinoa Cornbread

I've updated classic cornbread to make it healthier, without compromising flavour or texture. Like my Quinoa Rice Bread, this is also made with germinated/sprouted quinoa seeds, resulting in a moist delicious nutritious bread that's surprisingly easy to make. (I've served it to non-health nuts with rave reviews :-) It's also great for special diets, as it's naturally gluten-free, and optionally dairy-free and sugar-free.


Fresh cornbread with guacamole.
Surrounded by a lovely crust, this cornbread is terrific warm and fresh out of the oven. If keeping longer than a day, I wrap it up and store it in the fridge, and then toast or grill thick slices - particularly good topped with homemade guacamole, or butter and honey!


Toasted cornbread with butter and honey.