Sweet Ambrosia Cookies
June 10, 2008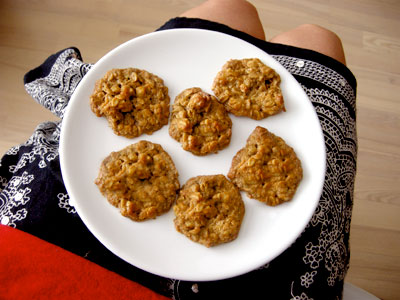 Ambrosia: The food of the gods. It is said the consumption of ambrosia results in immortality.
Recipe: Sweet Ambrosia Cookies
I can't promise immortality, though I will say these honey-sweetened aromatic cookies are pretty satisfying and delicious :-) Inspired by Tahini Oatmeal Walnut Cookies, these are made with sweet nutty sunflower seed butter, which is abundant in these parts (and for some, easier to digest than tahini). Rich and healthy, these gems also contain oats, pecans, coconut, vanilla and cinnamon. These cookies happen to be vegan and wheat-free/gluten-free - they're really quick and easy to make too!