The Spice Must Flow
March 16, 2006
Greetings! Welcome to pattycake - my own personal website and blog devoted to healthy baking and other fun stuff.
Speaking of baking, this morning I concocted up a variation of one of my favorite treats: biscotti! Biscotti simply means "cookies" in Italian. The biscotti most of us are familiar with are the "twice baked" variety often served with espresso. (These are also known as cantuccini.) Baking cookies twice allows them to keep for weeks. It also gives them a nice crunchy texture that is also great for dipping in your espresso, tea, milk, or wine.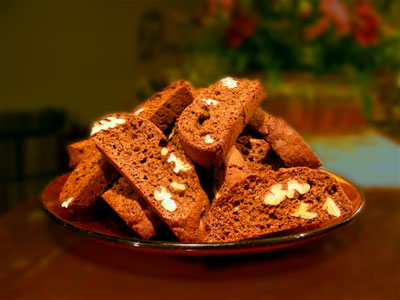 I modeled this biscotti after another wonderful thing: gingerbread. It's March and still cold out - the perfect time for baking with spice. I used a combination of whole spelt and kamut flowers, honey, molasses, spices... and a generous amount of pecans. The aroma from the baking cookies was sublime - and is still lingering.
Check out the recipe: Pecan Gingerbread Biscotti
Ciao bella.