(Healthy) Chocolate Zucchini Cake
September 26, 2008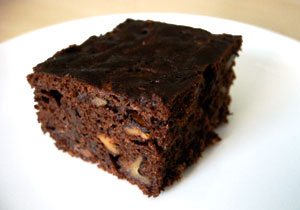 In late summer and early fall, my mom would have giant zucchinis from her garden - they were often comically large and obscenely shaped. Us kids weren't really into veggies, especially giant green ones, so my mom would make these into rich chocolate zucchini cakes. The recipe she used was my Ukrainian grandma's recipe: a lovely moist chocolatey cake with a hint of spice. We loved it.
When I got older, I scored the recipe from my mom, and after looking it over, decided that it needed a bit of a (healthy) makeover. (Her recipe used 1 3/4c white sugar, white flour, and over 1c of fat - yikes!) Being the health-conscious sweet-loving young woman that I was, I altered the recipe to make it as healthy as possible, while still being loyal to the delicious flavours and texture.
The recipe I came up with uses whole ingredients, a lot less sugar and fat (over half as much! don't worry, the zucchini keeps things moist) - and more chocolate, spice and vanilla. I've had this recipe for years, and just remembered that I didn't share it yet, so voila!
Recipe Remix: Healthy Chocolate Zucchini Cake
These days I'm working on a gluten-free version of this recipe. My current tastes are a bit richer than they were a few years ago, so the new recipe will have a bit more fat and chocolate...
Happy healthy baking :-)
PS - Do you have a favourite chocolate zucchini cake recipe? Gluten-free?