Black Bean Brownies...
October 11, 2008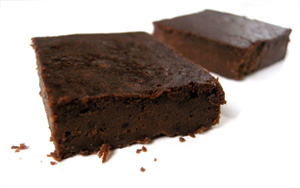 Not too long ago I noticed a hot trend around the web - the black bean brownie. The concept is awesome: a rich dark chocolaty brownie made with fiber-and-protein-rich black beans (wheat-free). Sounds like breakfast to me! Above is a pic from a batch I made based on this recipe. (Mine were made with extra chocolate, less butter, less agave, no coffee or walnuts...)
The result tasted great, looked amazing, but didn't really have a brownie texture - and also had to be refrigerated to stay firm. The texture was more like a cheesecake, a really yummy cheese-less cheesecake, so that's what they'll be in their next life. We had no problems scarfing this experiment down.
UPDATE: See comment #3 for the recipe (I've added a bit of starch to firm things up a bit) - apparently they rock. :D
UPDATE 2 (May 10 2011): Check out my new recipe for Really Awesome Black Bean Brownies :)