Festive Persian Cookies
December 14, 2008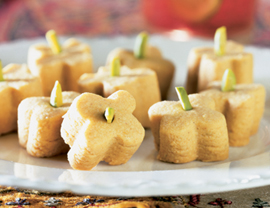 Nan-e Nokhodchi (Roasted Chickpea Four-Leaf Clover Cookies). Image from Vegtarian Times
I'm back on the scene with some great recipes to share. (Selling our condo + (moving x 2) = super busy...) I have a couple of killer recipes to post before taking off for Mexico too - but first, Persian cookies!
I love Persian cookies. They're aromatic, pretty, and wonderfully flavoured with awesome things like rose water, cardamom, cinnamon, honey, saffron, pistachios, almonds, walnuts... perfect for festive cookie season. Here are some classics from the web, all wheat-free, beautifully flavoured, shortbread-like, and melt-in-your-mouth delicious.
Nan-e Gerdui (Walnut Cookies with cardamom, topped with pistachios)
A fantastic cookie recipe + a history lesson.
Persian Rice Cookies
A traditional aromatic and delicate little cookie flavoured with rosewater, cardamom, and adorned with pistachios.
Another recipe for Persian Rice Cookies from an accomplished traveling food blogger. Included on this page are 3 other stellar cookie recipes from around the world. I love the sounds of the Ricciarelli (Sienese Almond Cookies): "Snow-white outside and meltingly soft inside, they're a fragrant, cloudlike version of the best marzipan you've ever eaten." Yum!

Rice Flour Poppyseed Cookies (naan-e berenji)
A middle eastern shortbread-like cookie flavoured with orange blossom water and poppyseeds. Super step-by-step photos. Check out this recipe for Rice Flour Butter Cookies from the same blog. (I'd up the rosewater to 3 tsp - I'm a freak for aromatic cookies.) Good stuff.
Nan-e Nokhodchi (Roasted Chickpea Four-Leaf Clover Cookies)
I LOVE these cookies, and like this recipe because of the easy directions, flavourings, and great photo. Here's another recipe for the same cookie made with half ghee and half oil, rather than all oil. (I prefer the addition of ghee, and the extra cardamom in this recipe.)
Gluten-Free Cardamom Shortbread
Here's a wonderful sounding treat, made with rice flour and inspired by Persian cookies. I'd increase the cardamom to at least 1/2 tsp.. I can't help it. ;)
Please share your favourite Persian and Middle Eastern cookie recipes in the comments. Happy festive baking!