Sweet Treats from the Merida Market
January 27, 2009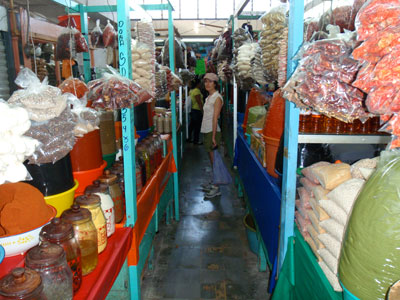 I'm back on the grid and enjoying the island life and food in Cozumel: fresh fish, pineapple, papayas, avocados - I was made to eat like this. I also started an intensive Spanish course here, so I'll be inserting little bits of it into my blog entries...
Not too long ago, I visited the big beautiful bustling colonial city of Merida. The highlight for me was the enormous Yucatecan market. (That's me in the market surrounded by spices, seeds, fruit, honey... Thanks for the photo Crispin!) Local goods from pineapples to machetes to sandals made from old tires are all for sale in this vibrant downtown market. To me it felt like a curios mix of Mayan, Mexican, Cuban, and Spanish. (Martha Stewart has some great pics from the same market here.) Here are a few of my scores:
Pumpkin seed marzipan (Mazapan de pepita). As far as I know, this is a Yucatecan specialty. They shape and colour it to look like miniature corn cobs, hot peppers, and other produce. Some pieces are dusted with wonderfully aromatic cinnamon (canela). Amazing to nibble on while sipping a dark coffee or espresso.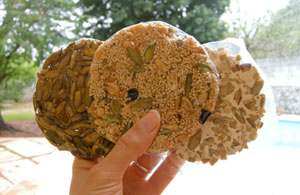 Another score from the confection stand were these 3 sweet treats (left to right): toasted pepitas with sugar and honey, toasted amaranth with raisins and seeds and nuts, pepita nougat. I'm not sure what these are called - so please let me know if you do - but they are all incredibly delicious. (Since they're packed with healthy stuff like pepitas and amaranth, they're pretty good for you too!)
More to come mañana... ;) Stay warm amigos!