¡Bienvenidos a la jungla!
March 13, 2009

Every day, we devour stellar tropical fruit salads made with fresh local pineapple, papaya, bananas, mangos - or whatever's in season.

Greetings from the jungle! I'm in a little cafe with wifi in town right now, and have 5 minutes to post this, so here goes. I'm having a fantastic time and learning so much about nature in the tropics, and how to live off the grid here in Mexico. Cooking with all the fresh local ingredients is a joy. I've even managed to bake-up some sweet healthy treats in the frying pan - stay tuned for Steamed Banana Cakes with Chocolate Black Bean Paste... It's fun being creative and resourceful out here.
¡Disfruta! (Enjoy!)
Patty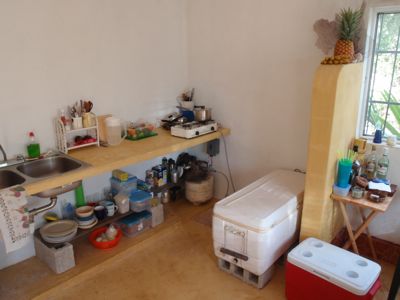 La cocina. (The kitchen). We managed to borrow most of the wares, including the "fridge" and gas stove from generous neighbours who had extra stuff.

Vanilla custard rice pudding with papaya pan-seared in butter with freshly toasted pepitas.