Mi Vida en La Selva
April 22, 2009

Getting some vitamin D on the dock, surrounded by clean fresh water and mangrove jungle.
¡Hola amigos! Been thinking of you all, from my little jungle casita by the lake in the southern Yucatan peninsula, Mexico. My partner and I have been getting by quite nicely, living off the grid without a car. Of course there are many challenges, like: getting ice and food, getting online, getting to town generally - which means catching a ride with a neighbor, the hot and humid +35C (and rising) days, the voracious insects: biting flies, mosquitos, hoards of ants, scorpions, tarantulas...  Otherwise, life is splendid and serene out here. Here are a few random travel pics to enjoy.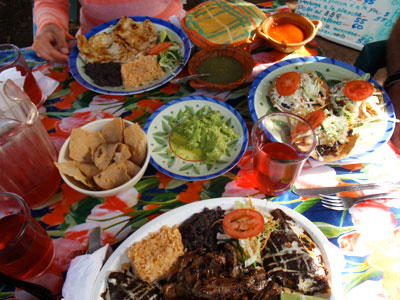 Fantastic feast at our favourite family-run restaurant in Cozumel: fresh fish with garlic, enchiladas with chocolaty mole, guacamole, hamaica to drink (hisbiscus flower ice tea)... ricisimo riquisimo! (Spanish for very rich/delicious!)

Mmm, more guacamole. The avocados here are buttery and divine. We make variations of guacamole, depending on what we have available. Additions include: lime, salt, garlic, onion, jalapeno, cilantro.

Sapote. This fruit is new to me: peachy flesh that's delicious, mild, soft and sweet. Great in an agua de fruta (a blend of fruit with some water and ice).

One of my favourite sweet treats is this chocolate amaranth cookie. They have a lot of amaranth treats out here in the Yucatan, though they are hard to find in the rural areas. I stock up when I go to the city.

Two Yucatecan molcajetes (mortars) - one for sweet spices, the other for savoury. I had to venture to the city (the old market of Chetumal) to find stone (piedra) molcajetes (they're actually cement). I'm not sure why these are always shaped like dogs pigs down here.

Lovely local spices: cinnamon, star anise, allspice, black pepper, cloves - ready to be pulverised in the molcajete. These are some of the flavours I've been adding to my thick spicy hot chocolates. I'll share my recipe when it's just right - or when I'm back online, and in civilization. Sigh.
Hasta pronto!
See you soon!
PS - I've noticed a lot of new visitors checking out my blog - hi, welcome, and thanks for all the great feedback! It's truly a pleasure connecting with other healthy fine foodies out there.
Photos: Thanks for the pic of me on the dock, our Cozumel feast, and the sapote Crispin - te amo!