Me Encanta Horchata
May 17, 2009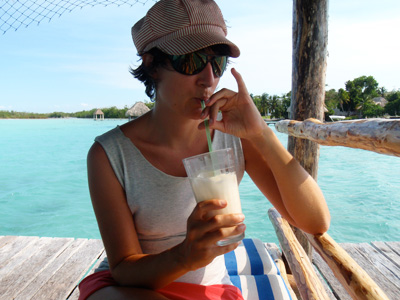 I'm back on the grid! Living in a little Mexican town, on a tropical lake, with a lovely fresh produce market, in a sweet little casa with wifi and a gear-laden kitchen. Soy muy afortunada. The jungle was awesome, but I was ready to move on. The rainy season is just starting, which means even more bugs, and I was getting eaten alive out there. Serves me right. ;)
There's so much that I've learned, and so much I want to share...
One amazing drink I discovered is an elixir of the gods called horchata. Every now and then, I'd see vendors at the side of the street selling it, and wonder what it was. Really, I wasn't that curious because the name didn't sound that appetizing. I even noticed it in the grocery stores, as a thick white substance sold in bottles. I ignored it, since to me it looked like mayonnaise or something creamy, yuk. One day, I noticed a bottle in an otherwise empty fridge of a kitchen palapa where we were staying. I picked it up and read the ingredients, which were: rice, sugar, water, almond, cinnamon, vanilla. What?! That sounds awesome... The directions said to mix some of this syrup with water, and enjoy over ice. I tried it. ¡Fantastico!
I learned that Mexican horchata is basically a sweet aromatic rice milk, usually made with raw rice and flavoured with cinnamon and vanilla, served on ice. Originally from Spain, it's traditionally made with tigernuts (chufas), so Spanish horchata probably tastes quite different than Mexican horchata. It's also made with ground almonds, sesame seeds, rice, or barley. I'd love to try all the differnet kinds.
Mexican horchata makes a great drink on it's own, or spiked with rum. I like adding horchata syrup to coffee or black tea as a dairy-free creamer/sweetener - or mixed with hot fresh ginger tea. Adding a teaspoon or two of concentrate to an agua de fruta (fruit blended with water), or smoothie is awesome too. Here is one of my favourite combos:
Recipe: Papaya Horchata Smoothie

Generally, the commercial horchata concentrates you can find here are mega-sweet, so I recommend using a lot less than the directions call for. You can find the concentrate in most grocery stores down here, the quality varies and different brands have different ingredient ratios, and some are less sweet. Of course, it's best to make your own! This rice and almond Yucatecan horchata recipe sounds awesome.
I'd eventually like to concoct my own horchatas, like: almond honey horchata, sugar-free brown rice horchata, sesame ginger horchata, chocolate spice horhchata, maple walnut horchata, agave jicama horchata... and of course, a traditional Spanish horchata de chufa.
The little bit of reasearch I did revealed some fascinating history, and that people are very passionate about this drink. I'd love to learn more - please share your horchata info, recipes and links - gracias!
Thanks for the pic Crispin!