Almond Rice Horchata
June 14, 2009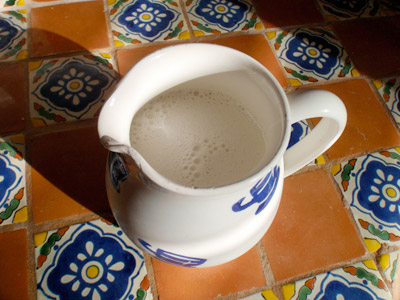 Home-made horchata is definitely where it's at. I don't think I'll ever buy rice milk or almond milk again, as home-made almond/rice horchata is similar, but much better. I've just started making my own horchata with: almonds, rice, honey, vanilla, cinnamon, lime zest, and a pinch of salt. I would love to make this with agave syrup too, but, funnily enough, agave syrup is impossible to find in this part of Mexico. It's even possible to make "sugar-free horchata" with no sugars at all, or a little bit of stevia... I'd really love to make horchata from sprouted/germinated almonds - though I haven't been able to find any raw almonds that are still "raw" since California has been irradiating their almonds. Anyways, after several experiments, here's my new horchata recipe:
Recipe: Almond Rice Horchata

My first ever horchata in progress: almonds, rice, cinnamon, and lime zest soaking in water.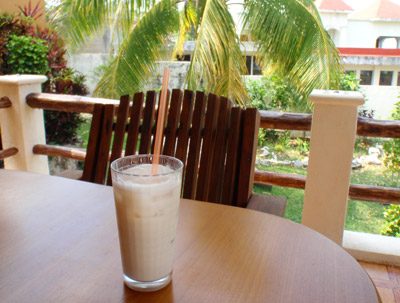 Wish you were here: A refreshing and nourishing glass of almond horchata hits the spot when it's too hot to cook. When it's +44C (with humidity) this is a good thing!
Disfruta! Enjoy! 
PS - I'm just starting another wave of traveling, so my posts will still be super-sporadic. I wish I had more time to post all the wonderful things I'm learning, but there's always mañana. ;) Next stop: Costa Maya