Estoy en Mexico
November 10, 2009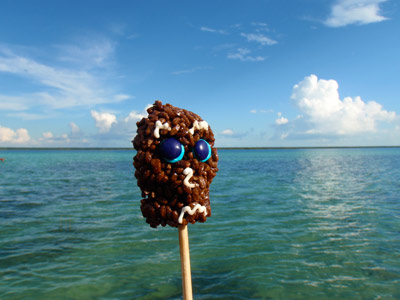 Sugary treat from Dia de los Muertos and Laguna Bacalar
November! It's been a while. I've been all over the continent the past few months. After my cross-Canada trek, I spent a bit of time in the lovely Okanagan, enjoying  all the bounty of late summer. After that, my sweetheart and I drove down the west coast USA, then east to the Sonora dessert, then south down into Mexico - hugging the west coast all the way over to Troncones, then across the continent again (and through sprawling Mexico city) all the way over to the south eastern corner of the Yucatan, where we finally arrived in the lovely little town of Bacalar where we are settling for the next few months or more...

Our travel route - wow! Thanks for charting us Crispin.
This time we are in town (rather than the jungle), so that we can have the internet, as well as people to speak Spanish with. Todavia estoy apreniendo español. (I'm still studying Spanish. Feel free to correct me!)  We are also close to a sweet little mercado (market) with lovely ripe local tropical fruit and veggies. I even found a little shop that sells bulk fermented cacao beans! Sooo looking forward to concocting my own rustic chocolate... I will share info, tips, recipes, and pics while I'm here - but more often I'll be off swimming in the cenote, making awesome fruit salads, or studying my Spanish. :-)
Thank you for all of your comments and feedback - I'm really impressed by all the creative healthy baking going on. Since I'm back online, I can reply to comments and questions too - I love all the delicious healthy food banter you know. I've also been checking out your blogs - great stuff!
Abrazos (hugs),
Patty