Baking Banana Bread in Bacalar
December 4, 2009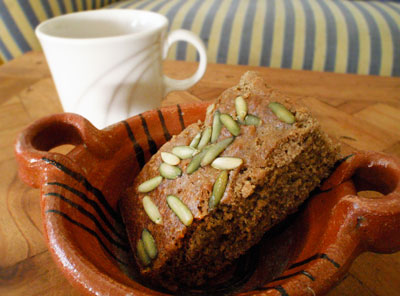 I've been happily mucking about in the kitchen, baking with the little gas oven in the mornings when it's cool enough to do so. (Yes, I have an oven!) It's a fun challenge to bake-up delicious wheat-free healthy goods with the ingredients I have access to here.
The very first thing I whipped-up was a classic: hearty rustic banana bread, based on my recipe for Easy Gluten-free Banana Bread. Of course, I had to make a few alterations. I used a combination of white rice flour (surprisingly easy to find here) and home-made oat flour. My banana bread also had unrefined Mexican brown cane sugar (called piloncillo - delicious!), Mexican cinnamon (I always double the amount as it's more subtle than what I use in Canada), and of course - delectable aromatic Mexican vanilla. Local bananas, eggs, and a sprinkling of fresh pepitas on top - yum!
There's no aluminum-free baking powder here, or cream of tartar (so that I can make my own). Instead, I used a combination of baking soda and apple cider vinegar, and though my cake was a bit dense, the soda+acid did the trick.
I also used a small rectangular stainless steel pan, the only pan I brought from Canada, instead of a loaf pan. Worked like a charm.
The banana bread was hearty and delicious (though I'd like to make a few tweaks before sharing the recipe...) It made a lovely breakfast, enjoyed with my sweetie and a cup of exquisite Chiapas coffee in a hammock watching the sunrise. La vida es buena. Life is good.

Thanks for the awesome pic Crispin.