Sweet Pics & Chocolate Experiments
March 31, 2010

A little something I came up with while living in the jungle: Chocolate and maseca black bean brownie mini-cakes made on the frying pan.
I've been spending so much time posting OPAPs (other people's awesome pics) on my other blog, that I've let my own photography slide a bit. I'm still baking away, having fun with the limitations I have baking here in a little town in tropical Mexico, in a little rental house with a very basic kitchen (i.e. limited access to ingredients and gear) as well as only baking on cool mornings (which are getting rare as it's starting to really heat up here). While finding, selecting, and posting awesome pics from all over the world  on Baking is Hot, I realized that I have to make an effort to take more photos of my own goods - and not just ok photos. Yes, that's tricky to do considering my semi-nomadic styles these days, but if I want to be a hot-shot designer/baker/producer then my pics have to be awesome, or at least look very delicious. :)
Here are a few photos of some of my Mexican chocolate experiments. (Not bad?) More recipes coming soon... Happy healthy baking and photo-taking!
Oh, and if you have any great-sneaky-crafty food photography tips or links, please share in the comments. :)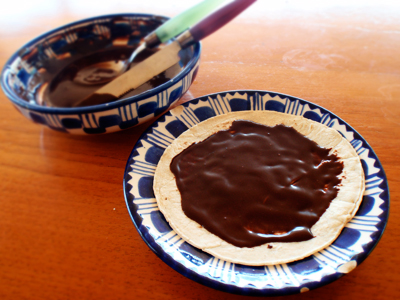 Fresh corn tortillas as crepes. I made a sweet chocolate spread (similar to my Noir Chocolate Spread) with local honey, cacao, coconut oil, and vanilla.

Experiments in rustic chocolate making.
For a couple of months, I was obsessed with making my own chocolate from scratch. I bought fermented beans from different produce markets, learned how to roast  them myself, ground them up and mixed in more ingredients, pressed it all into forms.... but could never get a really pronounced chocolate flavour out of my beans. What I found out after learning more about cacao quality and fermentation, is that most of the good cacao beans are exported to Europe. Sigh. My rustic chocolates were still pretty delicious. :)