Excavation
March 24, 2006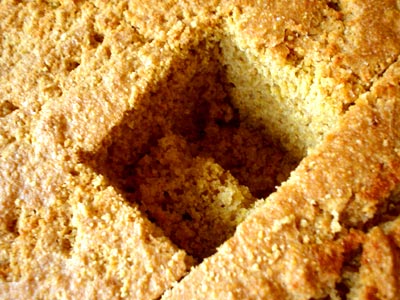 Tomorrow is my birthday! We're going to have a little bohemian dinner party to celebrate. We've ordered a free-range turkey - my first time ever cooking a whole turkey. I've started on the stuffing and made a large batch of cornbread. I ate a little piece from the center to make sure it was ok - it's delicious. The reason I removed a center piece was twofold:
1. save the buttery crusty parts for the stuffing
2. make sure it cooked properly in the center since it was a large batch
As well, I hoped to find treasures buried beneath the crust...