Coconut Woman
June 15, 2010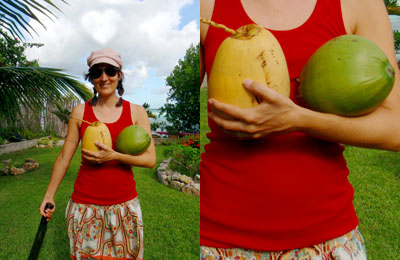 Right now it's super hot here in Mexico (like +40C with humidity, and getting hotter) so baking has taken the back burner so to speak, but that's cool because I love making all kinds of food - hello jicama salads and no-bake amaranth squares! (Ok, I did just bake a sticky red banana pudding - yum...) Now that the rainy season has started, the plants are happy again and we have quite the selection of exciting produce available, from mangos to sapotes to pitayas. I've also been super-busy with my other blog, as well as design projects, not to mention the amazing adventure that is life - it surprises me how much of my time is taken up living!
All this to say my blog posts here will be very sporadic for the next little while, but I still have time to reply to your comments and emails (which I love) and if you need a fix of healthy baked goods, there are some fabulous healthy (as well as gluten-free and vegan) recipe links from folks all over the world on Baking is Hot. :)
And what about the picture? Well, that's me posing with the fresh coconuts my sweetheart bravely retrieved from 2 different coconut palms on the lovely property we're living on this summer.  I was so enamored by these 2 beauties that I said "Quick, take a picture, I feel like Coconut Woman!" (Thanks for indulging me C, heehee.) Right after this, he hacked them both open with a machete (another brave feat, swoon...) and we enjoyed one of our favourite drinks - fresh coconut water with some fine aged rum. ¡Qué riquísimo!