Day of the Dead Skull Cookies
November 1, 2010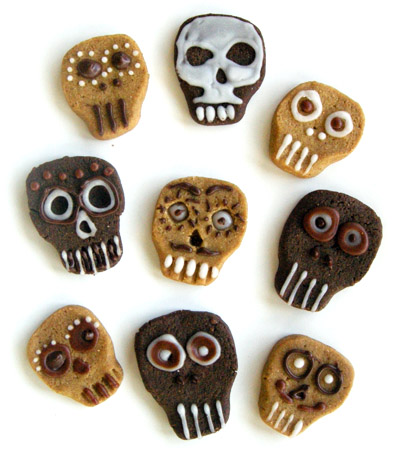 Happy Día de los Muertos! Here in Mexico, November 2 is a very special day, a time to spend with family and connect with deceased relatives and friends and celebrate life. I think it's a very beautiful tradition.
Traditional treats and happy sugar skulls are part of the deal too. It's funny that up north (Canada and the US) skulls are usually portrayed as dark and evil, but down here they're often cheery and whimsical.... and sometimes very sweet too. To celebrate, C and I decorated our own little skull shortbread cookies. It was muy divertido (very fun!)
I used a couple of chilled rolls of cookie dough (from my last slice-n-bake cookie experiment) and after slicing 1/4" rounds of dough, I pinched the "chin area" and flattened them a bit more with my fingers to make a basic skull shape. No cookie cutters required - and they all turn out a little different. I threw them in the oven, and 5 minutes into baking had a good idea how to define the face. So I pulled them out of the oven and worked on half of them - leaving the other ones smooth. With a fork, I pressed down gently to make teeth. Using a chopstick, I pressed the fat tip in to make eye sockets, and the small tip to make the nose cavity. Yum. ;) Since they were already partially baked, they ended up cracking - which was actually pretty cool since skulls do have cracks and fissures. Check out my last blog entry to see how they look without the icing - they're pretty nice looking plain too.
The decorating was super fun. C got in on that action. I was inspired by these cookies, and these chocolate trees (learning that the fine lines were made using a ziplock bag as an icing bag with a tiny piece of the corner snipped off). I don't have a lot of fancy kitchen stuff here - but I do have ziplock bags! I made 3 simple icings (just squishing the ingredients right in the bags to mix):
White: 2-3 Tbps icing sugar with a few drops of rose water and just enough water to make a thick paste.
Orange/Brown: 2-3 Tbps icing sugar, ~1/4 tsp cinnamon and just enough water to make a thick paste. (mine was pretty dark because it had about 1 tsp of canela)
Dark Brown: Melted semi-sweet chocolate. (This worked very well, but I wasn't able to stack these cookies because the chocolate stuck to the other cookies. For cookies that need to be stored efficiently, I'd make an icing sugar icing like the ones above, but with vanilla and cocoa.)

Senior Skull courtesy of Crispin (Gracias!)
This was seriously my first time making "fancy" decorated cookies. (Not counting the gingerbread men from kindergarten - or my recent iBooster app cookies hehe...) I was delighted with how easy and fun it was - and how effective the ziplock baggie icing bag/tip technique was.
Making funny little decorated skull cookies for Día de los Muertos is going to be a yearly tradition for us from now on - as well as remembering our beloved deceased relatives, sharing stories about them, and celebrating life. :)