Chewy, sweet, and nutty
July 12, 2006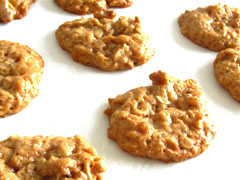 My friend Meeshka sent me a recipe for some lovely little cookies.
These are pretty special: chewy, sweet, nutty, and delicious. They are also free of dairy, eggs, wheat, and refined sugar. They can also be gluten-free, if you use oats that have not been contaminated with wheat. Yes, these cookies are packed with flavour and nutrients - one could even call them healthy. Eater beware: consume in moderation - these cookies are rich!
Recipe: Tahini Oatmeal Walnut Cookies
Added bonus: quick and easy to make!