Kelowna Farmers' and Crafters' Market
August 18, 2006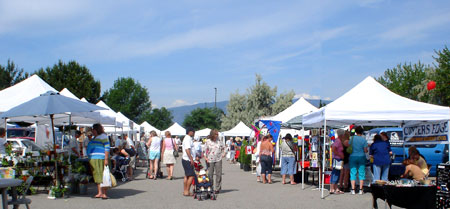 Early this summer, I had the pleasure of attending the Kelowna Farmers' and Crafters' Market in the Okanagan Valley.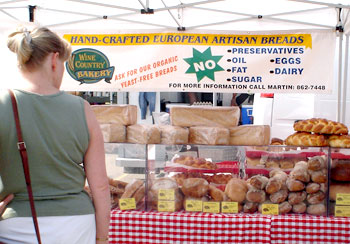 One of my favorite stands: Quail's Farm. I picked up some delicious baked goods here including a hearty 9-grain bread, and exquisite berry pie. I also bought some fresh stone-ground spelt flour which I made into brownies with my great little baking helper Noah. I also scored some fresh arugula and mustard greens. Thanks guys!
There was a variety of wonderful local honey. I chose some delicious fireweed and lotus blossom (trefoil) honey: lovely mild delicate flavour.
Other good things:
free samples!
a chance to chat with the farmers and producers
home-made preserves, hot pepper and wine jellies
healthy organic ostrich meat
art, crafts and jewelry
natural toiletries
plants and flowers
More on other farmers' markets later...