Cocoa: Dutch vs Raw
February 14, 2007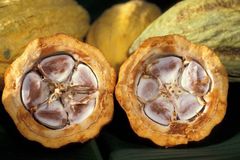 Cocoa beans in a cacao pod (Source: U.S. Department of Agriculture - Agricultural Research Service)
I'm sure you've all been noticing the studies constantly popping up proclaiming chocolate's health benefits.
In Chocolate, More Cocoa Means Higher Antioxidant Capacity. One thing I recently learned was that alkalized cocoa (like the dark and mellow Dutch Processed cocoa) is lower in healthy antioxidants (here: flavonoids) than the more unprocessed (and more bitter) "raw" cocoa. I figured when it came to chocolate, and by extension cocoa, "the darker the better". Not so for cocoa. Dutch Processed cocoa still contains healthy antioxidants (and tastes awesome), just not many as raw cocoa.
Once again, the less processed food wins as the healthier choice!